19oct6:00 pm7:30 pmTiger of the Human Species? Yavapai-Apache Scouts: Meanings and Legacies (Tempe & Virtual)Arizona Heritage Center
Event Details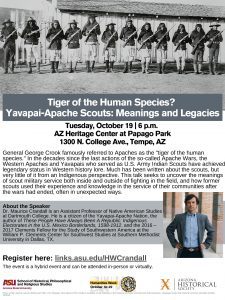 Tiger of the Human Species? Yavapai-Apache Scouts: Meanings and Legacies
Dr. Maurice Crandall
Tuesday, October 19 at 6:00 p.m.
*In-Person and Virtual Event*
General George Crook famously referred to Apaches as the "tiger of the human species." In the decades since the last actions of the so-called Apache Wars, the Western Apaches and Yavapais who served as U.S. Army Indian Scouts have achieved legendary status in Western history lore. Much has been written about the scouts, but very little of it from an Indigenous perspective. This talk seeks to uncover the meanings of scout military service both inside and outside of fighting in the field, and how former scouts used their experience and knowledge in the service of their communities after the wars had ended, often in unexpected ways.
About the Speaker
Dr. Maurice Crandall is an Assistant Professor of Native American Studies at Dartmouth College. He is a citizen of the Yavapai-Apache Nation, the author of These People Have Always Been A Republic: Indigenous Electorates in the U.S. Mexico Borderlands, 1598-1912, and the 2016 – 2017 Clements Fellow for the Study of Southwestern America at the William P. Clements Center for Southwest Studies at Southern Methodist University in Dallas, TX.
Free event but registration is required.

The event is a hybrid event and can be attended in-person or virtually. In-person seating is limited to ensure social distancing and masks are required.
This program is in partnership with the ASU School of Philosophical, Historical and Religious Studies for Humanities Week.
Time

(Tuesday) 6:00 pm - 7:30 pm
Location

Arizona Heritage Center

1300 North College Ave