About the Al Merito Award
The Arizona Historical Society established the Al Merito Award in 1973 to recognize individuals and organizations who have made outstanding contributions and serve as role models for preserving Arizona's rich history. This honor acknowledges meritorious service for those who preserve and celebrate Arizona history. Following a review of all nominations, the AHS Board of Directors selects one individual and one organization/group to receive the Al Merito Award annually.
2022 Al Merito Award Nominations
Due: August 12, 2022
Nominations are now open for the 2022 Arizona Historical Society Al Merito Award. All nominations must be
received no later than August 12, 2022. Nomination forms received after that date cannot be considered.
Download the Nominations Form Here and send to Shelley Coriell at [email protected], or mail to Shelley Coriell, Arizona Heritage Center, 1300 N College Ave, Tempe, AZ 85288.
We invite nominations of organizations and/or individuals whose special achievements have enriched the community through their vision, dedication, and love of Arizona history. Note: Applications may be submitted by anyone. AHS staff, AHS Board of Directors, and Chapter Board members are not eligible recipients while active. Applications will be reviewed based on the following criteria:
Outstanding contributions or extraordinary efforts to interpret and disseminate Arizona history.
Demonstrated enrichment of a community (as defined by the applicant).
Serves as a role model for the preservation of Arizona history.
Number of years worked in the field of Arizona history.
Preservation of previously untold Arizona history or engagement with an underserved audience.
Congratulations to Tom Foster, the 2021 Al Merito Recipient!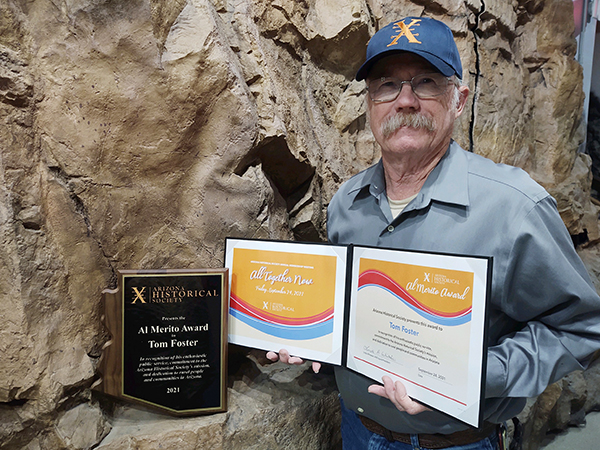 "In this unusual pandemic year, the Executive Committee voted unanimously to continue the AL Merito tradition. It waived the Board member restriction in order to honor Tom Foster for his outstanding service to the Board and his unwavering, personal commitment to the AHS mission. From a grateful AHS Board and staff, this was a long-overdue recognition of his outreach to rural communities. Tom Forster is a model of public service and professional accountability." – Linda Whitaker, AHS Board President
Tom Foster was awarded the 2021 Al Merito Award at the Annual Membership Meeting. Watch the award presentation.