About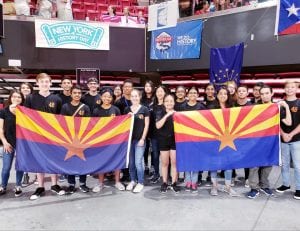 National History Day Arizona (NHDAZ) is a signature program of the Arizona Historical Society. Developed for middle and high school students, National History Day Arizona makes history come alive by engaging them in the discovery of the historical, cultural, scientific, and social experiences of the past. Through in-depth research, project-based learning, hands-on experiences, and presentations; Arizona students become better prepared to inform the present and shape the future. NHDAZ inspires teachers and students through challenging classroom activities, after school clubs, weekend workshops, and exciting competitions transforming history education and instruction.
News and Upcoming Events
2020 NHDAZ State Competition is now Virtual! 
The State Competition at ASU is canceled. Please see the new submission guidelines at the link below. The deadline is Friday, March 20 at 7:00 p.m.
Read the NHDAZ State Competition Submission Guidelines.
For more information, contact Stacey Trepanier at [email protected]
Arizona Students Win Top Prizes at the 45th Annual National History Day Contest
In June 2019, Arizona traveled to Washington D.C. to compete at the National History Day competition. Read more about how Arizona students received recognition in multiple categories. Read more about National History Day 2019.