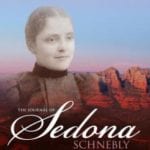 Join us as Lisa Schnebly Heidinger tells the story of her grandmother, Sedona Schnebly.
Arriving in Arizona Territory in 1901, Sedona and her husband, T.C. Schnebly planted orchards and hosted early tourists in the city now named Sedona.
Lisa is a popular speaker and was voted OneBookAZ author for the state centennial book. Tuesday, August 21 from 6:30 pm – 7:30 pm with a book signing following the talk from 7:30 p.m. to 8:00 p.m.
Free. RSVP [email protected] or 480-929-0292 by August 19.