The Journal of Arizona History
Each issue of The Journal of Arizona History features original research articles and an extensive book review section that focuses on new works on Arizona, the American West, and the border region. A subscription to the journal is a benefit of Arizona Historical Society membership. Members also receive access to archived issues through JSTOR and Project MUSE.
All AHS Members receive a copy of the journal.  Individual copies can be purchased as well. The current Fall/Winter 2020 issue is $22.50. Prior year issues, if available, are $10 per copy. Special themed issues are $15 per copy. To order, visit the online store.
The full list of membership benefits, plus an option to join or renew online, appears on our membership webpage. You may also access the Journal's cumulative index.
To submit an article manuscript to The Journal of Arizona History, contact the editor, Dr. David Turpie, at [email protected]. Authors are encouraged to read the submission guidelines before submitting a manuscript.
The Journal of Arizona History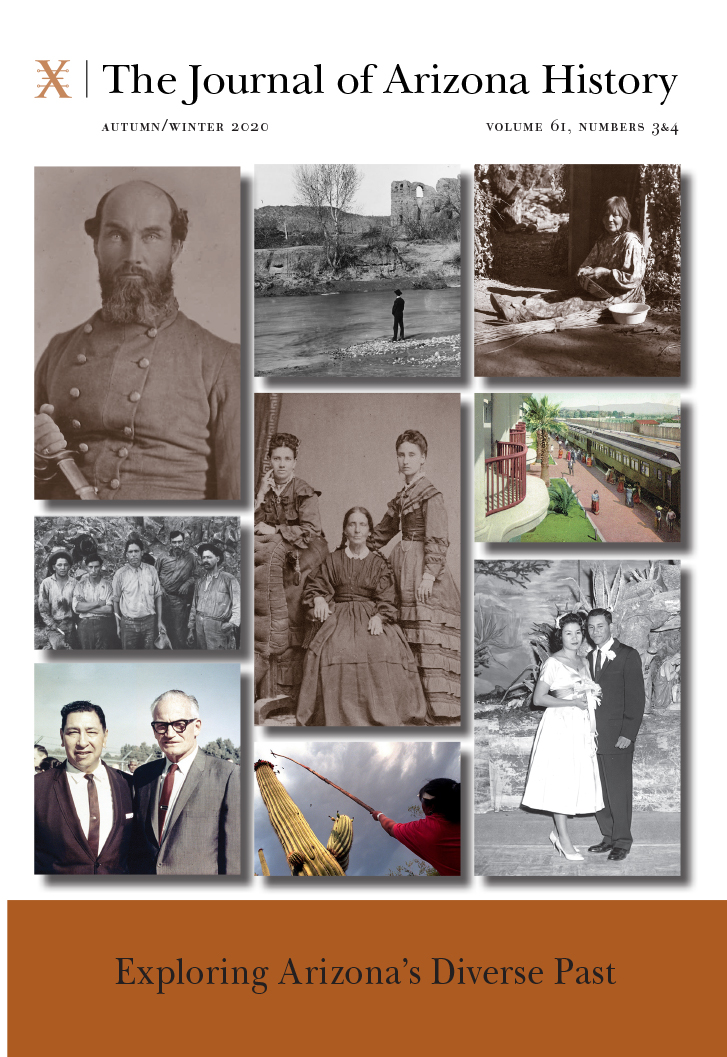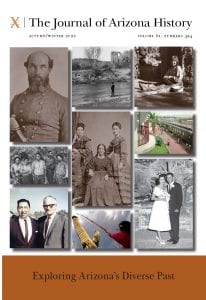 "Exploring Arizona's Diverse Past"
A New Special Issue of The Journal of Arizona History
Autumn/Winter 2020
Guest Edited by Katherine Morrissey (University of Arizona)
"From Pima Villages to the Walker Mines: Anglos, Hispanos, and Natives in the Making of Civil War Arizona"
By Megan Kate Nelson (author of The Three-Cornered War)
"The Sediments of History: Placing Arizona in the Columbian Exchange"
By Thomas D. Finger (Northern Arizona University)
"The Twining Paths of Mormons and 'Lamanites': From Arizona to Latin America"
By Daniel Herman (Central Washington University)
"Engendering the Long Nineteenth Century and Mapping Gender onto Arizona History"
By Katherine Sarah Massoth (University of New Mexico)
"Beyond Border Spectacle: Oral History and Everyday Meaning in Chinese Mexican Tucson"
By Priscilla M. Martínez and Grace Peña Delgado (University of California–Santa Cruz)
"Yava-Who?: Yavapai History and (Mis)Representation in Arizona's Indigenous Landscape"
By Maurice Crandall (Dartmouth College)
"On the Borders: Towns, Mobility, and Public Health in Mojave History"
By Juliet Larkin-Gilmore (University of Illinois)
"Change and Continuity in the Time of the Blob: Growth Politics in Postwar Arizona History"
By Andrew Needham (New York University)
"Barry and Beyond: Conservatism in Arizona before, during, and after Its Most Famous Representative"
By Geraldo Cadava (Northwestern University)
"From Senior Citizen to Sun Citian: Aging and Race in Neoliberal Retirement"
By Flannery Burke (Saint Louis University)
"Critical Indigenous Studies: A Lifetime of Theory and Practice"
By Jennifer Nez Denetdale (University of New Mexico)
"Navigating the Border: The Struggle for Indigenous Sovereignty in the Arizona-Sonora Borderlands"
By Eric V. Meeks (Northern Arizona University)
"Lead, Follow, or Get Out of the Way?: Arizona History and the Nation"
By Katherine Benton-Cohen (Georgetown University)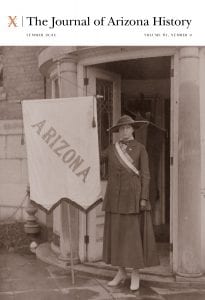 Introduction
By Jaynie Adams
"Suffrage on the Frontier: How Arizona and Maine Women Pushed for Full Citizenship"
By Shannon M. Risk
"East Meets West: Comparing the New York and Arizona Woman Suffrage Campaigns"
By Karen Pastorello
"Responsible Citizens: Comparing Woman Suffrage in Arizona and South Dakota"
By Sara Egge 
"They Think I have Forgotten all about the Past": Suffragists' Struggle for Acceptance in Politics in Arizona and Texas
By Rachel Michelle Gunter
"Where is Their Place? Mexican-Origin Women, Citizenship, and Suffrage in the Arizona Borderlands"
By Kif Augustine-Adams
Winning Their Place Roundtable: A Response
By Heidi J. Osselaer
 ARTICLE
"The Most Interesting Objects That Have Ever Arrived": Imperialist Nostalgia, State Politics, Hybrid Nature, and the Fall and Rise of Arizona's Elk, 1866–1914
By Michael A. Amundson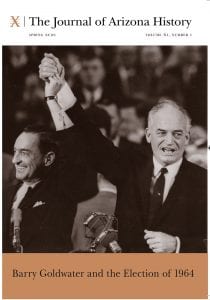 Donald T. Critchlow and David B. Frisk guest editors
Preface
By David B. Frisk
"Barry Goldwater and 1964: A Beginning and an End"
By David Farber
"Would Goldwater Have Made a Good President?"
By Donald T. Critchlow
"Johnson versus Goldwater: The 1964 Presidential Election"
By Nancy Beck Young
"The 1964 Election: A Closer Look"
By David B. Frisk
"Man of the West: Goldwater's Reflection in the Oasis of Frontier Conservatism"
By Sean P. Cunningham
"Barry's Boys and Goldwater Girls: Barry Goldwater and the Mobilization of Young Conservatives in the Early 1960s"
By Wayne Thorburn
"A Non-Issue: Barry Goldwater and the Absence of Religion in the Election of 1964"
By Vincent J. Cannato
"Evicted from the Party: Black Republicans and the 1964 Election"
By Joshua D. Farrington
"Mortaging the Future: Barry Goldwater, Lyndon Johnson, and Vietnam inthe 1964 Presidential Election"
By Andrew L. Johns
"'The Media Were Not completely Fair to You': Foreign Policy, the PRess, and the 1964 Goldwater Campaign"
By Lawrence R. Jurdem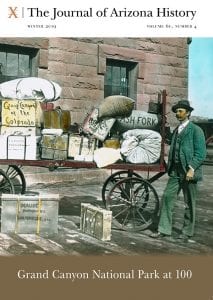 Byron E. Pearson, guest editor
Introduction
By Byron E. Pearson
Nature and Environment of Grand Canyon
"These Dismal Abysses": An Environmental History of Grand Canyon National Park
By Byron E. Pearson
"The Burro Evil": The Removal of Feral Burros from Grand Canyon National Park, 1924–1983
By Abbie Harlow
Grand Canyon in Art and Literature
One Canyon, Countless Canyon Stories: Exploring the Narrative Grand Canyon
By Kim Engel-Pearson
Cultural Artifact and Work of Art: Grand Canyon Landscape Painting
By Amy Ilona Stein
Science and Tourism in Grand Canyon
Viewing Power and Place at the Grand Canyon: Grand View Point, 1880–1926
By Yolonda Youngs
An Interview with the Great Unconformity: Howie Usher, Scientist and River Guide
By Howie Usher, Amy Ilona Stein, and Byron E. Pearson
Law and Policy of Grand Canyon
Grand Canyon as Legal Creation
By Jason Anthony Robison
Grand Adaptation: A Dammed River and a Confluence of Interests
By Jennifer Sweeney and Paul Hirt
Mapping Grand Canyon
Rescaling Geography: Grand Canyon Exploratory and Topographic Mapping, 1777–1978
By Matthew Toro
One Hundred and Sixty Years of Grand Canyon Geological Mapping
By Karl Karlstrom, Laura Crossey, Peter Huntoon, George Billingsley, Michael Timmons, and Ryan Crow
AHS Books
Since 1975, the Arizona Historical Society has published more than twenty-five books about the culture and history of Arizona and the surrounding region. To order books, visit our new online store.
New Book Alert!
The Girl in the Iron Box: How an Arizona Kidnapping Stumped Hoover's FBI by Paul Cool
To purchase, visit our online store.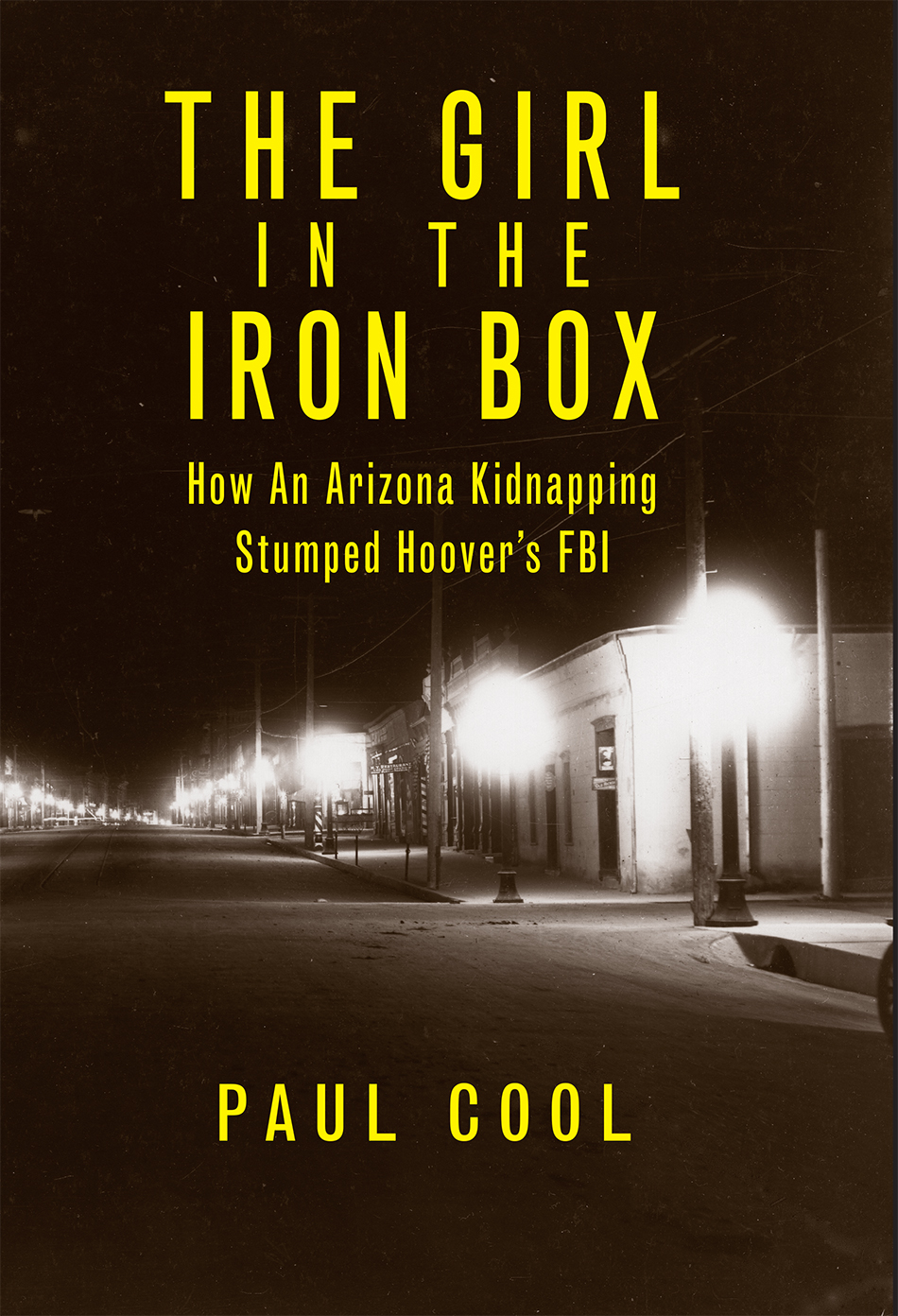 At 3 o'clock in the afternoon of April 25, 1934, six-year-old June Robles stepped inside a Ford sedan on her way home from school and disappeared from the streets of Tucson, Arizona. With the Lindbergh kidnapping fresh in the minds of Depression-era Americans, the kidnapping sent shock waves across the country and through the sleepy desert community. After nineteen frantic days and nights, June Robles was discovered alive, buried in an iron box beneath the hot desert sand. Second only to the Lindbergh case, June Robles's disappearance was the most notorious child abduction of the 1930s, setting in motion a massive manhunt in Tucson and around the country. It was the first major case that ambitious FBI director J. Edgar Hoover's agents could not solve. Based on extensive research in newspapers, interviews, and FBI files,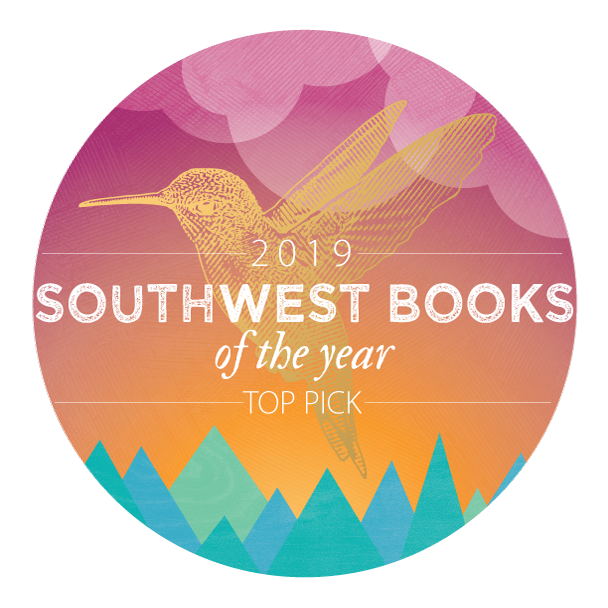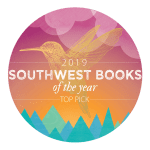 Paul Cool recreates in absorbing detail the search for the missing girl, the massive local and national manhunt for her kidnappers, and Hoover's obsessive involvement in the case.
The Girl in the Iron Box was named a Top Pick in Pima County Public Library's 43rd annual Southwest Books of the Year!