Arizona Heritage Center - Facility Rentals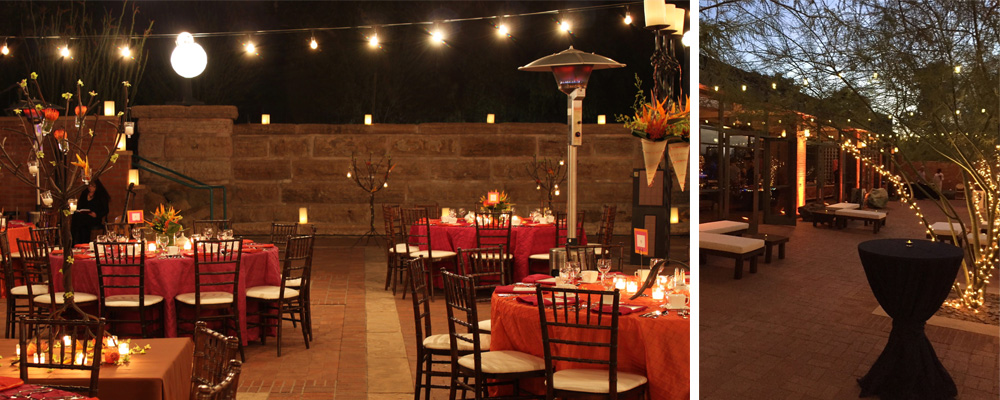 Arizona Heritage Center Meeting and Event Guide
The Arizona Heritage Center offers a variety of meeting and event venues to suit every need.
Brick Courtyard
The romantic brick courtyard is the perfect place for weddings, receptions and corporate functions. Featuring a view of Papago Park and magnificent sunsets, soft lighting from overhead string lights, and the stunning granite water feature, this courtyard is delightful.
Sandstone Lobby
The museum entrance opens into an expansive sandstone atrium lobby with a grand staircase. The majestic space is perfect for weddings, receptions or dinner parties.
Glass Pavilion
The bright and airy glass-walled Pavilion sits at the edge of the Brick Courtyard. The space features a built-in marble bar, and four sets of double glass doors. It is a perfect place for hosting bridal showers, intimate dinners, or to use in conjunction with the courtyard for food service or other activities.
Steele Auditorium
The Steele Auditorium features a raised stage, projection and sound booth, and luxurious padded seating for up to 272 people.
Brown Theater
The Brown Theater features flexible seating for up to 60 people, and full audio visual capabilities.
Roosevelt Boardroom
A comfortable, inviting space for conducting meetings, lectures and workshops. The room is configurable in a variety of ways to suit your needs, and features a projector and microphone system.
Other Outdoor Spaces
The scenic Desert Terrace overlooks the courtyard and Papago Park. The natural desert landscaping is enhanced with historic objects from the construction of Roosevelt Dam.
Orientation Point is an expansive patio at the entrance to the museum. Bordered by planter boxes with trees and shrubbery on one side, and a short brick wall overlooking the desert landscape on the other, and a view of Four Peaks Mountain. This is the perfect place for large receptions and events.
Need more information? Contact our Meeting and Event Planning Department at [email protected] for more information.