People often think of archives and museums as places where you go to learn about important historical figures. But who decides what makes a person "important" enough to belong in a museum? Throughout much of modern history, decisions about what museums collect have been made exclusively by archivists and curators. 
Yet over the past few decades, a major shift has occurred. Calls to democratize the process of collecting and curating have led to more inclusive types of archives and museum collections, made possible by the internet and the shift to digital exhibits and online collections.
In the archives field, this is sometimes referred to as "participatory archives," projects where all people are invited to share their stories and materials to create crowdsourced archival collections. Participatory archives help to fill some of the gaps in traditional, institutional archives, where underrepresented communities have long felt their voices are not welcome.
These types of projects often center on specific events, subjects, or cultural groups. 
One example, the South Asian American Digital Archive, was started in 2008 to create a space for participants to contribute photographs, oral histories, and videos of their experience living in the United States. Others, like the Boston Marathon Bombing Digital Archive, emerge after a momentous event as an effort to help heal communities through sharing stories and preserving them for future generations. 
The internet makes these projects especially useful, since participants no longer have to travel to a physical archive to donate their items or share their stories. Earlier this year, as many people were moved to stay at home and businesses closed to the public to slow the spread of Covid-19, a group of academics at Arizona State University decided to start a participatory archives project of their own.
The result is A Journal of the Plague Year: An Archive of Covid-19, a fast-growing, participatory project where people can contribute their own stories of what it has been like to live through the coronavirus pandemic. The Arizona Historical Society has teamed up with the ASU School of Historical, Philosophical and Religious Studies to reach out to our communities in Arizona and invite you to share your story of how the pandemic has impacted your life. By adding your story to the hundreds that have already been submitted, you can help inform future generations about what life in Arizona was like during the Covid-19 pandemic.
Submit your Covid-19 Arizona photos, videos, documents, and/or oral histories at https://covid-19archive.org/. Be sure to tag your submissions with #AZhistory to help future historians learn about how Arizonans experienced the pandemic.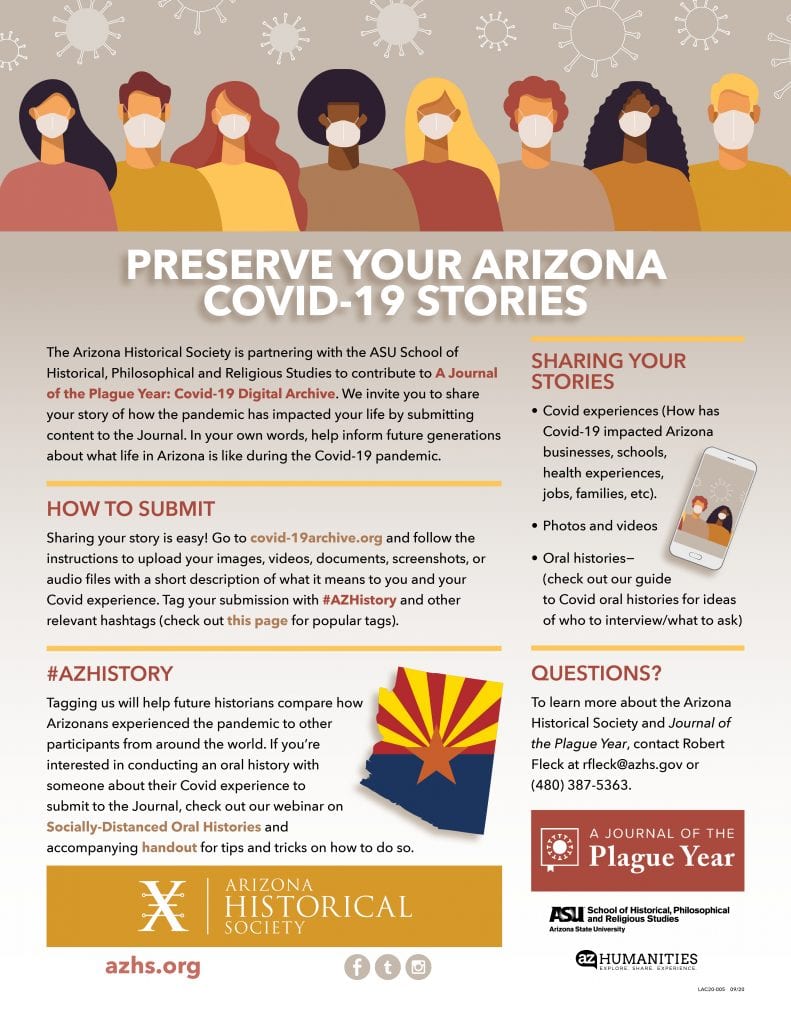 Contact the Arizona Historical Society

Perri Pyle
Archivist
Arizona History Museum, Tucson
Email  Perri