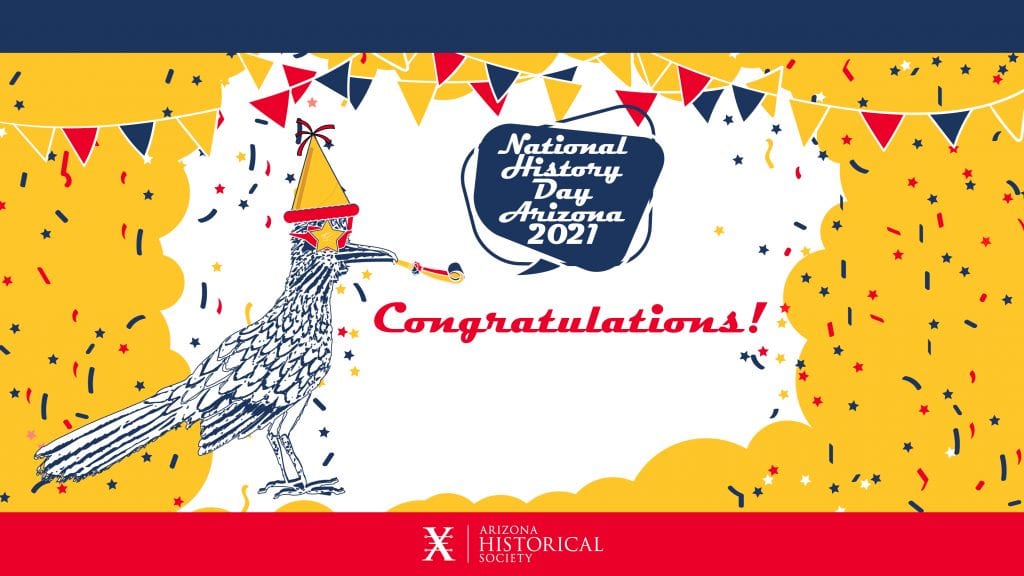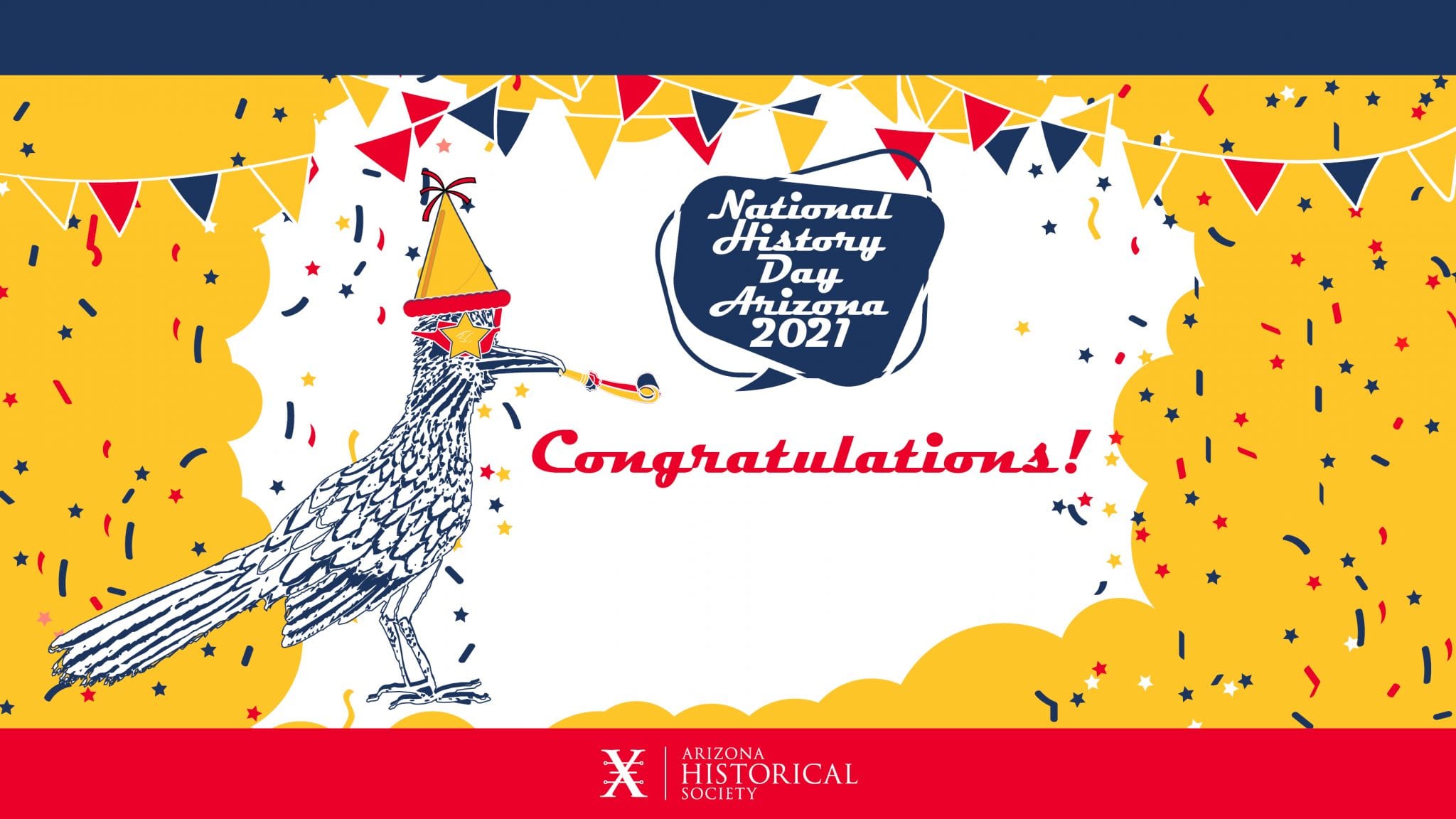 And that's a wrap on NHDAZ 2021! Despite a challenging year, Arizona's students had an impressive showing, as always! Students tackled this year's theme, Communication in History: The Key to Understanding, with gusto, choosing diverse topics that covered World War II, racism and racial violence in the United States, women's political and civil engagement, ancient languages, environmental issues, and so many more. Students promoted to the NHD National Contest will compete virtually in June against thousands of other students from across the country and world!
Thank you to our National History Day Arizona sponsors and supporters that help make this program possible: Albertsons, Arizona Humanities, The Foothills Club of Tucson, Historical League, Inc., Northern Arizona Pioneers Historical Society, SRP, and Smart & Final.
An extra big thank you to the dozens of judges who spent hours reviewing every project and helping students grow and improve from regionals to state and onto nationals. NHDAZ would not work without you!
Interested in learning more or participating in NHDAZ? Planning for the 2022 Contest is already underway! Contact NHDAZ Coordinator Jaynie Adams for more information about how you, your student, or your school can get involved!
Read more about the NHDAZ contest winners and special awards.
NHDAZ 2021 By the Numbers:
Regional contest participation: 217 students, 157 projects across 4 contests

State contest participation: 123 students, 89 entries

State contest winners: 80 students, 54 entries

Promoted to the national contest: 56 students, 34 entries 

Special award winners: 13

Teacher Awards: 4

Judges: 37
Patricia Behring Teacher of the Year
Jeanette Wingate, Flowing Wells High School

Rebekah West-Keur, Sunrise Middle School
NHDAZ Teacher of the Year
Christie Higgins, Heritage Academy Queen Creek

Mary Hall, Northwest Christian School
Direct-support classroom microgrants: 4
Katherine Reddy, Westwood High School

Ellen Miller, Laird Elementary School

Brandon Vignuex, Summit Academy

MacKenzie Uliasz, Accelerated Learning Laboratory
Youth Division Ranking
Please note that youth projects are NOT promoted to the National Contest
Individual Exhibit
1st Place: Navajo Code Talkers: The Unbreakable Code

2nd Place: Frequency Hopping that Changed the World of Communication 

3rd Place: History of Traffic Signs: Easy to Understand Non-Verbal Means of Instant Communication with Travelers
Individual Website
1st Place: Alan Turing, The Enigma, The Bombe: Cracking the Code to better Communication

2nd Place: Maya Angelou: Communicating Through Prose and Poetry

3rd Place: Stan Lee's Superheroes: Fallible Comic Book Characters Connecting with Readers by Dealing with Real-Life Problems
Paper
1st Place: Dorothea Lange: The Photographer of the New Deal

2nd Place: I Have a Dream: High Hopes and High Notes
Junior Division – Grades 6 through 8
Group Documentary
1st Place: Mahatma Gandhi: The Father of Nonviolence

2nd Place: Behind Bars: Communication Among the Incarcerated Community

Alternate: War of the World Broadcast
Individual Documentary
1st Place: Communicating the American Conscience

2nd Place: Carrier Pigeons

Alternate: How Email Is the Spark of the Internet Revolution
Group Exhibit
1st Place: The Pony Express: Communication Throughout History—From Little Hooves to Big Deliveries 

2nd Place: The Black Panther Party: A Key in Understanding Racial Injustice 
Individual Exhibit 
1st Place: Click: The Camera Never Lies

2nd Place: Communication in the Neighborhood of Make-Believe: How Mister Rogers' Neighborhood Helped Children Find the Key to Understanding Their Emotions

Alternate: Jeanette Rankin: First Woman in Congress
Group Performance
1st Place: How Dots and Dashes Changed History
Individual Performance
1st Place: The Dr.'s Communication from the Pages of Children's Books and Beyond

2nd Place: The Cold War on Ice
Group Website
1st Place: The 1913 Women's Suffrage Parade: Newspapers and the Parade for Liberty

2nd Place: Mother Knows Best: How A Mother's Letter to Her Son Led to Women's Suffrage

Alternate: Communication in the Bombing of Pearl Harbor 
Individual Website
1st Place: Charles Moore: Communicating Truth Through the Camera

2nd Place: The Soundtrack of Genocide

Alternate: Anne Frank's Diary: A Personal Diary Continues to Communicate Even After Seven Decades
Paper
1st Place: Communication's Roles in American Anti-German Sentiment During World War I

2nd Place: Hickory Dickory Dock: The 1884 International Meridian Conference and its Influence on Time Zones

Alternate: The Universal Declaration of Human Rights: A Milestone in History 
Senior – Grades 9 through 12
Group Documentary
1st Place: Appeal for Amnesty: The Letter That Changed It All

2nd Place: From D.C. to Saigon: The Consequences of Communication
Individual Documentary
1st Place: A Bloody Draw: Three Communication Failures During the Maryland Campaign of September 1862

2nd Place: The Pittsburgh Survey: A Communication of the Gilded Age

Alternate: Creoles of the World: The Bridge to Mutual Linguistic Understanding 
Group Exhibit
1st Place: The Visual Propaganda of WWII

2nd Place: The Art of Persuasion: How Americans Communicated Their Understanding of the Vietnam War

Alternate: Energy's New Frontier: Electricity at the Chicago World's Fair 
Individual Exhibit 
1st Place: Vann Nath: The Paintings that Communicated the Inhumanity of Killing Fields, the Key to Understanding the Horrors Within the Cambodian Genocide

2nd Place: Trail of Broken Treaties

Alternate: Code Girls: Communicating Change 
Individual Performance
1st Place: At the Stand

2nd Place: The Hello Girls: Connecting Lines for Communications and Enhancing Understanding
Group Website
1st Place: Agent Garbo: A Tale of Deception

2nd Place: Tuning In: How Radio Free Europe Communicated Through Cold War Propaganda

Alternate: Hearst and Pulitzer: Papers That Launched a Thousand Ships
Individual Website
1st Place: James Baldwin: A Witness to Racial Misunderstanding

2nd Place: The Nisei Linguists: Communicating to Build Bilateral Understanding

Alternate: Deaf President Now: A Message of Self Determination and Self Governance to the Hearing World
Paper
1st Place: The Inadequate Communication of the Mormon-Missouri War of 1838

2nd Place: Communication in the 1980 Olympic Boycott: A Fight for the Favor of the American Public

Alternate: Tunneling for Intelligence: Operation Gold, Soviet Half-Truths and a Flawed American Understanding
Special Awards
Best Entry in WWII, Jewish Heritage, or Holocaust History:
Sponsored by the Arizona Jewish Historical Society
Best Holocaust History Entry:
Sponsored by the Phoenix Holocaust Association
Anne Frank's Diary: A Personal Diary Continues to Communicate Even After Seven Decades
Babbitts Family Award – Best WWI Entry:
Sponsored by the Babbitts Family
The Hello Girls: Connecting Lines for Communications and Enhancing Understanding
Best Use of Archives:
Sponsored in part by the Arizona Archives Association 
Communication in the 1980 Olympic Boycott: A Fight for the Favor of the American Public

The Inadequate Communication of the Mormon-Missouri War of 1838
Equality in History Award:
Junior
The Black Panther Party: A Key in Understanding Racial Injustice
Senior
Silenced Voices: Confronting Native American Linguicide During the Boarding School Er
Best Women's History Entry:
Junior
Senior
Code Girls: Communicating Change 
Best Southwestern History Entry: 
Sponsored in part by the Northern Arizona Pioneers Historical Society
US Government Uranium Mining: Miscommunications That Threatened Navajo Cultural Identity

Reflecting the Sun: US Military Use of Heliographs
Best Military History Entry:
Junior 
Communicating the American Consciousness
Senior
From D.C. to Saigon: The Consequences of Communication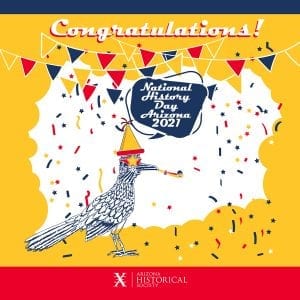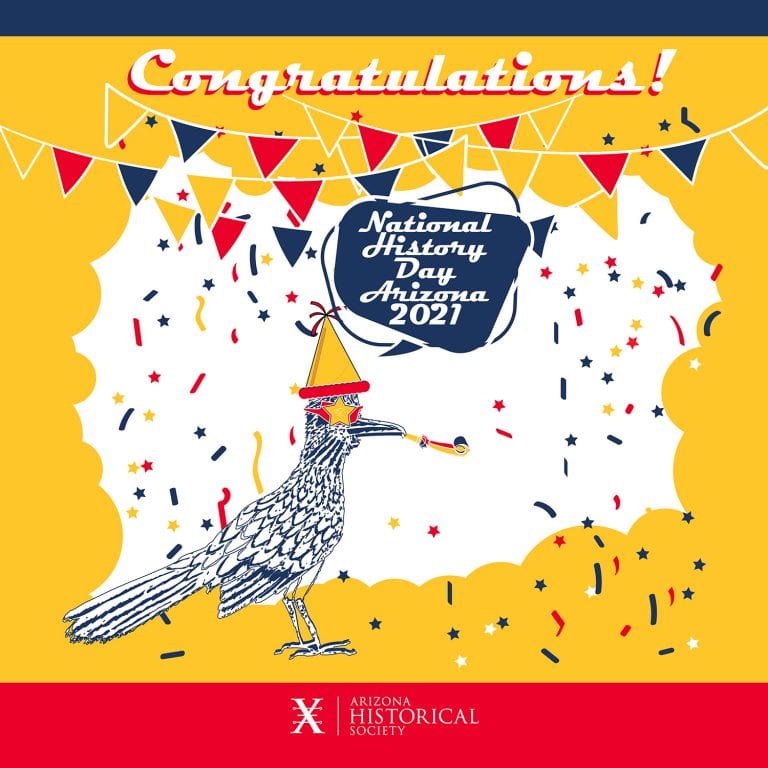 Jaynie Adams
Curator of Education – Education Team Lead
National History Day Arizona Coordinator
Arizona History Museum, Tucson
Email  Jaynie