As summer temperatures heat up, Arizonans begin to anticipate our annual monsoon season. The summer monsoon season starts when the winds shift and produce a radical change in the state's moisture starting around June 15. From afternoon Flagstaff showers to billowing dust storms near Casa Grande, every Arizonan has a monsoon story. Although this weather may only last for a few months of the year, it can bring unpredictable weather: rain, lightning, extreme heat, flash floods, and blowing dust.
State and local governments have produced warnings and guides to help Arizonans prepare for the dangerous and unpredictable flash-floods. Here are a few highlights from the Arizona Historical Society's Library and Archives. This flood pamphlet is from the Tucson Ephemera Collections. The Arizona Department of Transportation offers advice for today's drivers navigating this season's storms. Learn more on the ADOT website.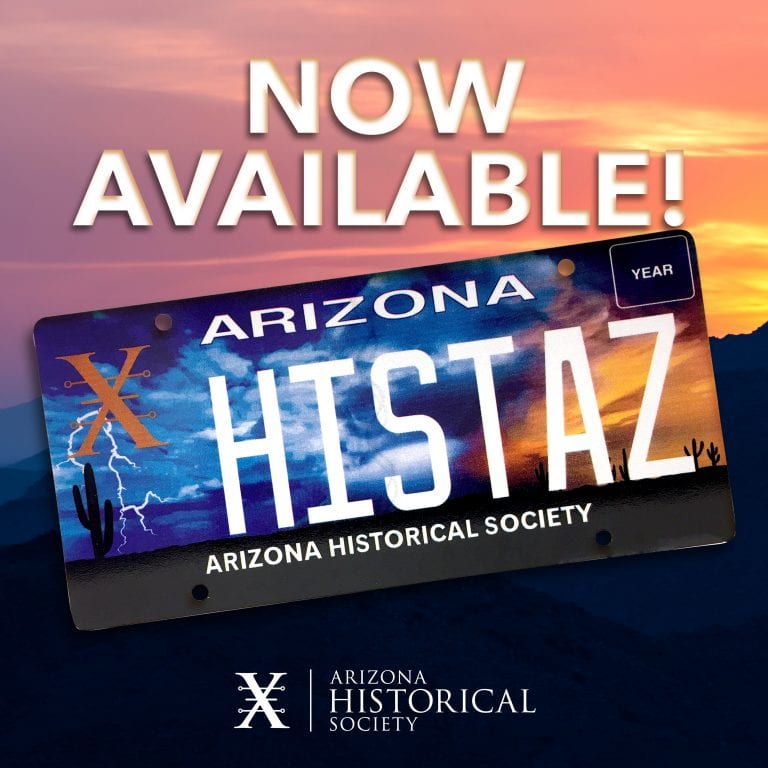 With Arizona Historical Society's monsoon season license plate, you can experience a little bit of monsoon all year long. The license plate displays a monsoon rolling across the breathtaking Arizona landscape and showing a famous orange sunset. The alchemy symbol for Copper (and the Arizona Historical Society's logo) is featured in the top left corner. Copper is one of the famous five C's of Arizona and played a significant role in establishing its economy and culture. Copper mining has been part of communities all around the state, and its precious metal was used to create tools, weapons, jewelry, and even paint pottery. Copper is also a great conductor of electricity. Spark a love for history by purchasing an AHS plate, you help to protect and preserve Arizona's history for future generations. Each plate costs $25, of which $17 goes directly to the Arizona History Society. Sales from the plate support the Society's mission to preserve and share Arizona's past – at statewide museums, library and archives, and through educational programs. 
Order your plate today at https://azmvdnow.gov/home.
Jessica Perica
2021 Marketing & Communications Intern