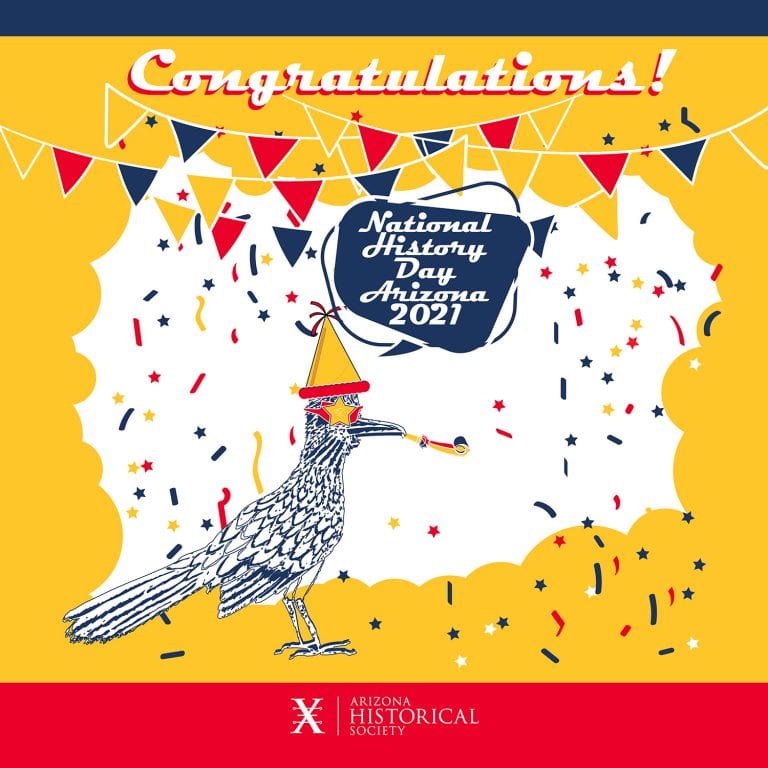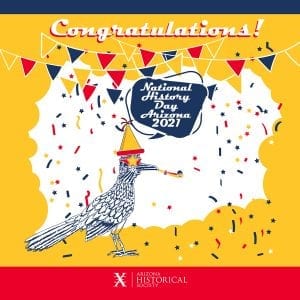 A new coordinator, new rules, a new rubric, and a virtual contest? This National History Day (NHD) cycle couldn't have been more different if we'd planned it! Despite all that, Arizona students had a strong finish in the National History Day Contest this year. The theme for 2021 was Communication in History: The Key to Understanding. 
Congratulations to the 56 students from Arizona representing 34 entries that were promoted to the national contest.They competed against over 3,000 students from more than 50 affiliates. Of all the students competing in the National History Day contest around the world, the following Arizona students finished in the top ten for their category: 
2nd Place, Senior Individual Website: Senou K (Peoria, AZ), James Baldwin: A Witness to Racial Misunderstanding 
2nd Place, Senior Group Website: Keona W, Sean C, Zia R (Tucson, AZ), Tuning In: How Radio Free Europe Communicated Through Cold War Propaganda 
7th Place, Junior Group Website: Melina E, Myah M, and Teresa L (Tempe, Arizona), Mother Knows Best: How a Mother's Letter to her Son Led to Women's Suffrage, winners of the U.S. Constitution Award
9th Place, Junior Group Exhibit: Abigail M, Hailey J, and Kaylee S (Prescott Valley, AZ), The Black Panther Party: A Key in Understanding Racial Justice, Outstanding Entry
The following students received honors at the National Contest: 
Outstanding Entry: Logan K (Tempe, AZ), Senior Individual Website, Nisei Linguistics: Communicating the Build Bilateral Understanding
Outstanding Entry: Tahlia M (Scottsdale, AZ) Junior Paper, Communication's Role in American Anti-German Sentiment during World War I 
Smithsonian Virtual Exhibit Showcase Selection: Mariah C (Mesa, AZ), The Trail of Broken Treaties 
Congratulations to all NHDAZ students, we'll see you next year! 
Thank you to our National History Day Arizona sponsors and supporters that help make this program possible: Albertsons, Arizona Humanities, The Foothills Club of Tucson, Historical League, Inc., Northern Arizona Pioneers Historical Society, SRP, and Smart & Final.
Contact NHDAZ Coordinator Jaynie Adams for more information about how you, your student, or your school can get involved in NHDAZ 2022!