Arizona Historical Society Announces Dr. David Breeckner As the New Executive Director
Dr. Breeckner Will Lead the State's Oldest Historical Agency Starting December 2021
The Arizona Historical Society (AHS) is proud to announce Dr. David Breeckner (pronounced "BrEHck-ner") as the incoming Executive Director. With a passion for history and learning, Dr. Breeckner will start his tenure in December 2021. 
AHS Board President Linda Whitaker announced, "We have caught a rising star! Of the many applicants in a nationwide search for a Director of the Arizona Historical Society, Dr. David Breeckner quickly rose to the top as the Executive Search Committee's choice for the position. His energy, communication skills, track record working with diverse communities as well as active engagement in education, outreach, and mentoring are critical elements for the future."
Dr. Breeckner joins AHS after over a decade working within the fields of history and archaeology, and the last four years with the Imperial Valley Desert Museum in Southern California. Originally a transplant from New England, Dr. Breeckner received his undergraduate at Saint Michael's College in Colchester, Vermont before relocating overseas to obtain a Masters and Doctorate in Classical Archaeology at Trinity College Dublin in Dublin, Ireland. His time there was transformative, shifting his focus away from rote textbook analysis of the past to a practical exploration through onsite study with archaeology. Since 2011, Dr. Breeckner has served as ceramic archaeologist with the Priniatikos Pyrgos Project, an Irish-led excavation based on the Mediterranean island of Crete. There, he specialized in the study of the enigmatic Minoan civilization of the Greek Bronze Age. His work with the Project demonstrated the transformative nature of interacting with history: that the sensation of studying and handling artifacts was in fact a conversation — one that bridges the present with the countless lives and stories of the past, and makes it come alive.
This philosophy now drives Dr. Breeckner in all his endeavors. An educator, Dr. Breeckner has served as a member of faculty in the Department of History at both Southern New Hampshire University and San Diego State University, where his courses covered historical subjects and civilizations from prehistory through the Renaissance. His time with students has refined a pedagogy focused around deep engagement, with the goal to reveal the relevancy of the past and to inspire meaningful connections between students and their subject.  
Dr. Breeckner shared, "We are living history: writing it day by day. To argue that history is irrelevant is to deny the reality of one's own existence. I am excited to lead the Arizona Historical Society museums, archives, and people into its next chapter. Museums exist as community spaces, where the lessons of the past can be explored, experienced, and enjoyed to help shape our collective future."
As an Executive Director, Dr. Breeckner specializes in institutional growth and community engagement.  He believes that history belongs to the communities they represent, and that its study can provide new meaning and value to our present and future. Museums exist as spaces to facilitate that reflection and review, and to excite and inspire individuals through the examples and lessons of the past. His works and past accomplishments include a focus on community-based programs and events, including hikes, craft fairs and festivals, expansive public education programming, virtual video series, and much more. Having started his career in museums as a curator, Dr. Breeckner has worked his way through and experienced every level of museum operations, including exhibit development, curricula writing, and capital campaigns. He addresses each with the tenacity and conviction born of an unshaken belief in the value and import of history on modern society. Coming to AHS in December 2021, Dr. David Breeckner is thrilled to share his experience-based way of learning and a forward-looking vision for the future with the people of Arizona.  Dr. Breeckner joins AHS with his wife Leslye and their two dogs, Brandy and Akira.
For future announcements, visit azhs.org. 
Media Contact: Tawn Downs, Vice President, Marketing, Communications, & Revenue Enhancement
480-387-5368 – [email protected]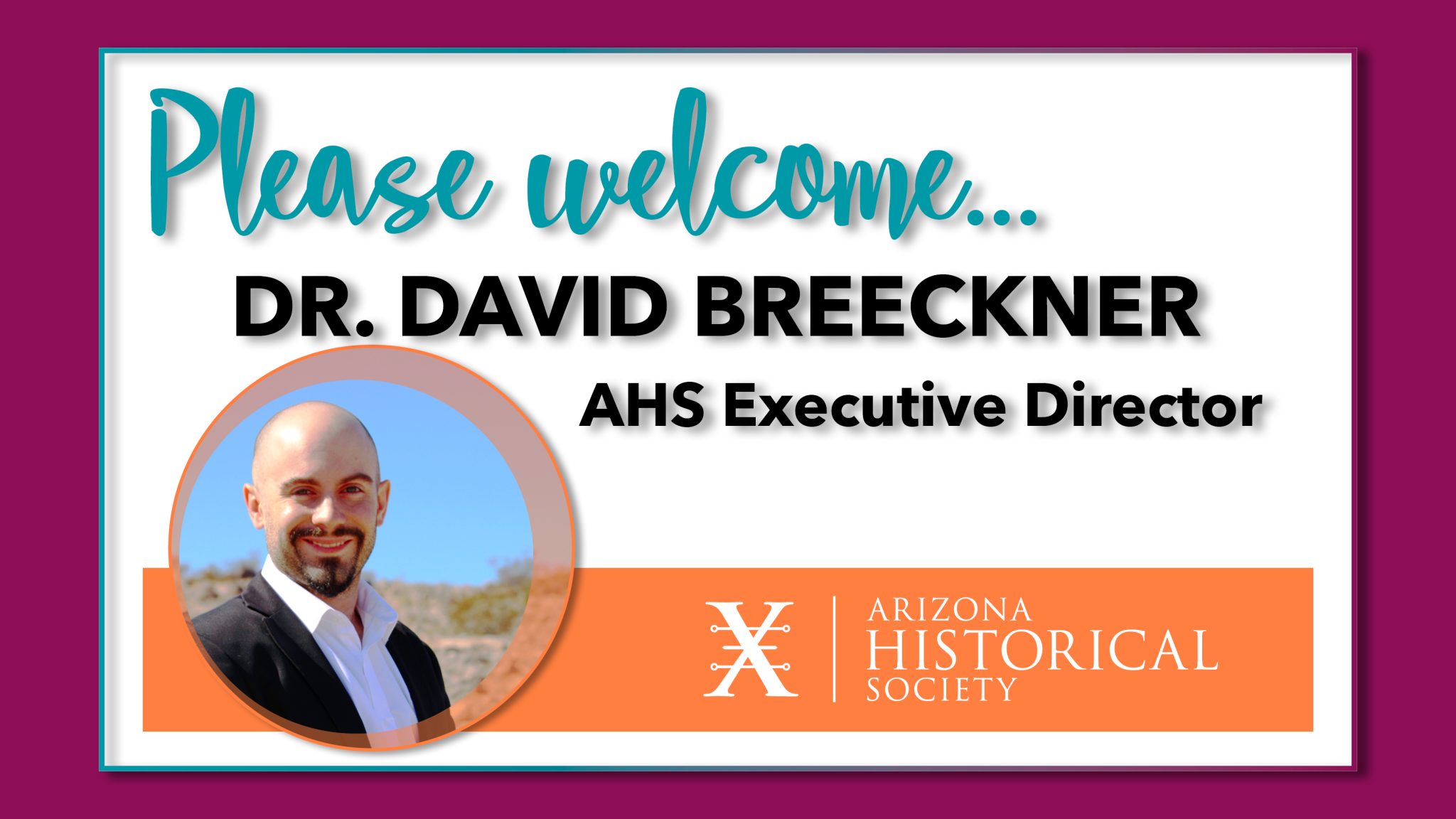 ##
About the Arizona Historical Society
Mission: Connecting people through the power of Arizona's history.
The Arizona Historical Society (AHS) is a nonprofit organization and state agency established in 1864. AHS collects, preserves, and tells the story of Arizona's past through museum exhibitions, libraries and archives, historic sites, educational programs such as National History Day Arizona, and the Journal of Arizona History. AHS seeks to be the driving force strengthening Arizona's communities by promoting history through leadership, partnership, and scholarship. 
Pioneer Museum (2340 N. Fort Valley Rd., Flagstaff, AZ)
Arizona Heritage Center at Papago Park (1300 N. College Ave. Tempe, AZ)
Arizona History Museum (949 E. 2nd St., Tucson, AZ)
Sanguinetti House Museum and Gardens (240 S. Madison Ave., Yuma, AZ)