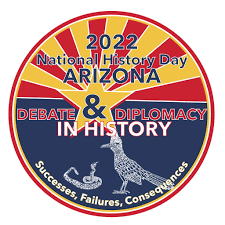 NHDAZ 2022 is one for the history books! Students gracefully navigated an ever-changing school and NHD landscape and have a lot to show for it! Topics on this year's theme, Debate and Diplomacy in History: Successes, Failures, and Consequences ranged from equal rights struggles, local historical debates, conflict in the Middle East, and even ancient politics! Students promoted to the NHD National Contest will compete virtually in June against thousands of other students from across the country and world!
Thank you to our National History Day Arizona sponsors and supporters that help make this program possible: Arizona Humanities, the Haugh Foundation, Historical League, Inc., and SRP.
An extra big thank you to the dozens of judges who spent hours reviewing every project and helping students grow and improve from regionals to state and onto nationals. We couldn't do it without you!
Interested in learning more or participating in NHDAZ? Planning for the 2023 Contest is already underway! Contact NHDAZ Coordinator at [email protected] for more information about how you, your student, or your school can get involved!
Read more about the NHDAZ contest winners and special awards.
NHDAZ 2022 By the Numbers:
Total classroom engagement: 1000+ students!

Regional contest participation: 189 students, 131 projects across 4 contests

State contest participation: 95 students, 67 entries

Promoted to the national contest: 43 students, 28 entries 

Special award winners: 12

Teacher Awards: 2

Judges: 39
Patricia Behring Teacher of the Year
Ellen Miller, Laird School

Rachael Henry, Buena High School
The Following projects have been promoted to the National Contest
Junior Individual Documentary
            2nd Place: The Opium War, Farah A
            1st Place: Panda Diplomacy: China's Ploy for Power, Jamie G
Junior Group Exhibit
            2nd Place: Stomp out Smog, Zechariah G and Ricardo M
            1st Place: Depathologizing Homosexuality: Diplomacy for Deviants, Melina E and Isela T
Junior Individual Exhibit
2nd Place: Dead Men Can't Negotiate: The Cuban Missile Crisis and 13 Days of Debate, Dread, and Diplomacy, Erich D
            1st Place: Atomic Energy: Scientific Fallout From Fat Man and Little Boy, Edwin N
Junior Group Performance
2nd Place: The Equal Rights Amendment: Race to Ratification, Hana G, Alexia H, Abigail J, and Clara O
            1st Place: The Cuban Missile Crisis: A Near Nuclear War, Audrey H and Isabelle R
Junior Individual Performance
            1st Place: Chiquita Brands: The Bloody Banana, Rockelle L
Junior Group Website
1st Place: Ghost Trains: Debates, Diplomatic Failures, and Consequences of the 1947 Partition of India, Jeremiah D and Camberlynn S
Junior Individual Website
            2nd Place: Dave Brubeck: Diplomacy Through Jazz, Thanvi V
            1st Place: Baldwin v. Buckley: The Debate of the American Dream, Ethan T
Junior Paper
            2nd Place: The Space Race: The Greatest Scientific Era of the United States, Simon P
            1st Place: Debates Surrounding the Industrial Revolution, Ira P
Senior Group Documentary
            2nd Place: Protecting Its Sovereignty: The Legacy of Ethiopia, Sunmit H and Michael M
1st Place: Diplomacy with a Swing: The Brubeck Quartet and the "Behind the Iron Curtain" Tour, Senou K, Ajay T, and Sam T
Senior Individual Documentary
            2nd Place: Nelson Mandela: The Diplomat Who Put an End to Apartheid, Molly B
            1st Place: A. Philip Randolph and the March on Washington Movement, Chase B
Senior Group Exhibit
2nd Place: Debate, Diplomacy, and Racial Prejudice: Women's Suffrage Movement, Rhiannon G and Gabriela L
1st Place: Exposing the Dirty War: Hidden Secrets and Controversies, Dae-Kyung K, Neha M, and Mark Z
Senior Individual Exhibit
            2nd Place: From Harlem to Europe: Cultural Diplomacy, Michaela T
            1st Place: Challenging the Role of Race and Women, Alessa F
Senior Group Website
2nd Place: Diplomacy, Death, and Consequences: The Atomic Bomb, Aylen B and Cate L
1st Place: Stunted Debate, Silent Death: The AIDS Epidemic in the 1980s, Navya B and Vidya I
Senior Individual Website
            2nd Place: The Route 40 Saga: A Road of Racism, Debate, and Diplomacy, Yatee K
1st Place: Reading Between the Lines: Debate and Diplomacy in Japanese American Internment, Nagasriya R
Senior Paper
2nd Place: The Women's Army Corps: The Debate Surrounding Women in the Army During World War II, Chloe B
1st Place: You've Got a Friend in Me: The Importance of Grassroots Diplomacy in Post-War Reconciliation as Demonstrated by German-American Friendship Clubs, Emma W
Special Awards
Arizona Archives Alliance Award: The Controversy of the Bisbee Deportation, Riley L, Allison L, and Paislee T
AZJHS Award for Histories of Anti-Semitism: The Pink Triangle: The Debate Regarding Its Original Usage and the Diplomatic Movement to Repurpose the Symbol as one of Resistance and Liberation, Anna H
Babbitt's Family Award for Best WWI or WWII Entry: Reading Between the Lines: Debate and Diplomacy in Japanese American Internment, Nagasriya R
Best Arizona History Sponsored by the Roe Family
Junior: Buckey O'Neill and the Rough Rider's Impactful Results on the Spanish-American War, Brendin O
Senior: "54-40 or Fight": The Debate on President Polk and his Failed Venture for Diplomacy with Mexico, Daniel P
Best Middle Eastern History Project: "Oil Foil" The Debate Over the Nationalization of the Oil Industry and the Necessity for Islamic Government Leads to the The Iranian Hostage Crisis and The Fall of President Jimmy Carter, Kevin G
Best Women's History
Junior: The Equal Rights Amendment: Race to Ratification, Hana G, Alexia H, Abigail J, and Clara O
Senior: Challenging the Role of Race and Women, Alessa F
Equality in History
            Junior: Depathologizing Homosexuality: Diplomacy for Deviants, Melina E and Isela T
Senior: Stunted Debate, Silent Death: The AIDS Epidemic in the 1980s, Navya B and Vidya I
Oral History Award: Native American Boarding schools: This is My Voice, Alissandra W
PHA Best Holocaust Studies Award: America or Auschwitz? Wagner Rogers Bill: America's Great Diplomatic Failure, Eliana K