22aprAll Day2021 Arizona History Convention (Virtual Event)
Event Details

The Arizona History Convention is Making History!

April 22-24, 2021

"Advocating for Change, Navigating Crises"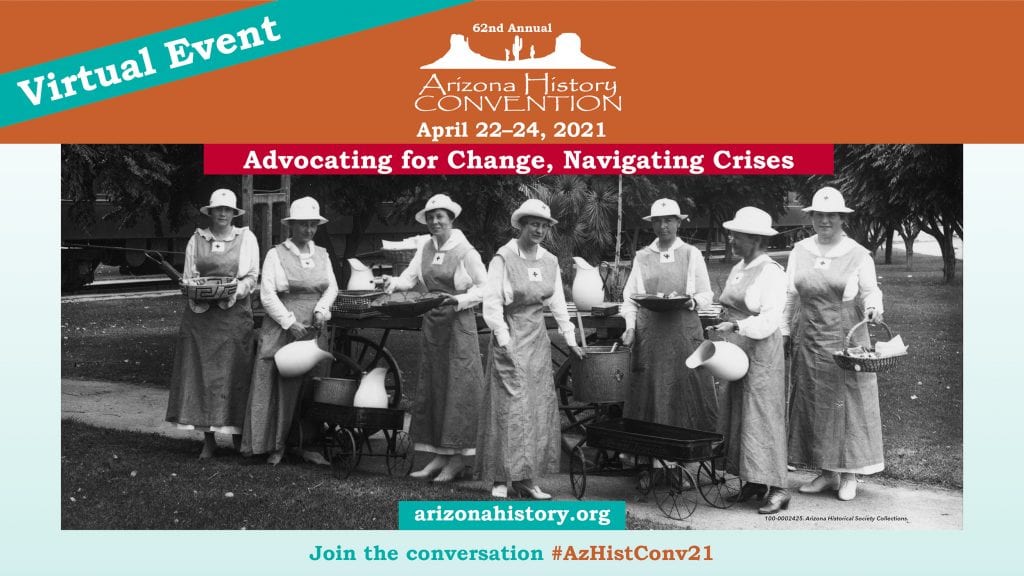 The sixty-second Arizona History Convention features a dynamic line up of presentations from over 50 speakers. Enjoy three days of discovery, connection, and exploration with historians, researchers, and history lovers from across the state and country. Anyone interested in Arizona history is invited to attend. Topics include archaeology, geography and environment, Indigenous land and reservation life, identity, women, military, filmmaking and podcasting, Southwest borderland communities, careers in public history, health, tourism, the law, and higher education. Here are a few of the highlights:
Desert Visionaries: Arizona History in the Popular Imagination–Documentary filmmakers and podcasters will discuss the changing nature of Arizona history. Panelists include Katrina Parks, Assertion Films, producer of Route 66 Women: The Untold Story of the Mother Road and Frontline Women; Cameron Trejo, Cameron Trejo Films, producer of the award-winning Power's War: Arizona's Deadliest Shootout and Lust for Gold: A Race Against Time; Chris and Mandi Wimmer, producers, writers, and directors of the popular podcast series Legends of the Old West at Black Barrel Media.
Pandemic in Arizona—A discussion of how past health crises has influenced the state and how historians are documenting the current Covid-19 pandemic. Speakers include Erin Craft and Mark Tebeau of Arizona State University, Robert Fleck of the Arizona Historical Society, and Katherine Morrissey, Mary Feeney, and Anita Hernandez of the University of Arizona.
Do you know your Miranda rights? Join the Arizona Justice Forum as attorneys John Lacy and Gary Stuart discuss the landmark United States Supreme court decision, Miranda v. Arizona.
For the full line-up of speakers and events, go to: https://arizonahistory.org
Registration is now open at: https://hopin.com/events/arizona-history-convention. All sessions are virtual and will be archived, available to view at your convenience.

Follow the Arizona History Convention on Facebook for the latest updates: https://www.facebook.com/AZHistoryConvention