23oct1:00 pm3:00 pmWyatt Earp, An American Odyssey Trilogy: Adobe Moon, Born to the Badge, Promised LandArizona Heritage Center
Event Details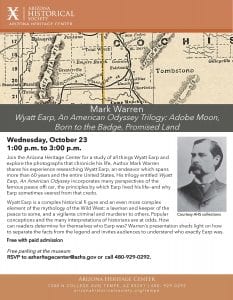 Join the Arizona Heritage Center for a study of all things Wyatt Earp and explore the photographs that chronicle his life. Author Mark Warren shares his experience researching Wyatt Earp, an endeavor which spans more than 60 years and the entire United States. His trilogy entitled Wyatt Earp, An American Odyssey incorporates many perspectives of the famous peace offi cer, the principles by which Earp lived his life—and why
Earp sometimes veered from that credo. Wyatt Earp is a complex historical fi gure and an even more complex element of the mythology of the Wild West: a lawman and keeper of the peace to some, and a vigilante criminal and murderer to others. Popular conceptions and the many interpretations of historians are at odds. How can readers determine for themselves who Earp was? Warren's presentation sheds light on how
to separate the facts from the legend and invites audiences to understand who exactly Earp was.
Wednesday, October 23
1:00 p.m. to 3:00 p.m.
Free with paid admission
Free parking at the museum
RSVP to [email protected] or call 480-929-0292.
Time

(Wednesday) 1:00 pm - 3:00 pm
Location

Arizona Heritage Center

1300 North College Ave