11mar10:00 am11:00 amGarden Talk: City Built in a Garden, History of Farming in Yuma CountySanguinetti House Museum and Gardens
Event Details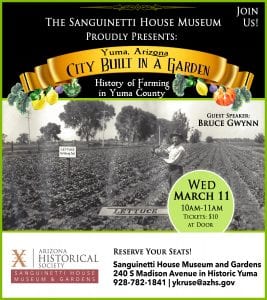 Presented by Bruce Gwynn

Wednesday, March 11
10am-11am
Molina Block
(Next door to Sanguinetti House Museum)
Tickets: $10 at door
Free admission for AHS members

Yuma is a modern city, and from month to month witnesses a revelation and the truth of the old words, "and everything shall live whithersoever the river cometh."   – The Morning Sun, November 26, 1919
Hosted at the Molina Block, future site of a fresh air
Ag Museum, Bruce Gwynn tells how Yuma's scorched, desert lands were transformed over time thorough sheer determination and extraordinary technological innovations into rich and fertile farm lands, lush with green fields of lettuce, citrus, dates, and more.
Today, Yuma is touted as the winter salad bowl of the United States. 

Learn about the history of farming in Yuma County
and hear stories of Yuma's visionary farmers who saw opportunity beyond the sand. 

Reserve Your Seats!  Email [email protected] or call 928-782-1841.
Time

(Wednesday) 10:00 am - 11:00 am
Location

Sanguinetti House Museum and Gardens

240 S. Madison Avenue