20may6:00 pm7:00 pmOnline Event! Rescaling Geography: Grand Canyon Exploratory and Topographic Mapping, 1777–1978 with Matthew Toro
Event Details

John Wesley Powell once wrote, "You cannot see the Grand Canyon in one view, as if it were a changeless spectacle from which a curtain might be lifted, but to see it you have to toil from month to month through its labyrinths." How do you grasp the entirety of the Grand Canyon? This month, join Matt Toro, director of Maps, Imagery, and Geospatial Services at the Arizona State University Library to discuss the history of mapping the Grand Canyon. Matt will be talking about his article "Rescaling Geography: Grand Canyon Exploratory and Topographic Mapping, 1777–1978 " from the Winter 2019 Grand Canyon at 100 Issue.

Don't have a copy of the Journal? Read the article for FREE via Project MUSE: https://muse.jhu.edu/article/744819

Matt will present a short overview about his article and then answer audience questions.

Matthew Toro is a broadly trained geographer currently serving as the director of maps, imagery, and geospatial services at ASU Library. He leads projects and programming at the Map and Geospatial Hub, ASU's library-based center for GIS, remote sensing, geovisualization, and the related technologies needed to transform geospatial data into powerful, value-added information. Matt's produced insights on subjects ranging from land use conflicts in the agrarian landscapes of southern Laos, to the social impacts of the built environment in greater Miami. He's the founder and editor of Miami Geographic, an urban geography data visualization blog about the Miami metro region.

FREE Event! RSVP via Eventbrite.

Event Image: Grand Canyon terrain mapped to scales of (a) 1:1,000,000 and (b) 1:100,000. Maps by author.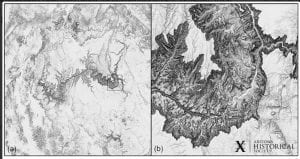 Time

(Wednesday) 6:00 pm - 7:00 pm