A Welcome Gift for You!
TORTILLA SOUP
This delicious soup is intended as a first course, but can easily be doubled and served as an entrée.
INGREDIENTS
6 Roma tomatoes, halved
1 poblano chile pepper, halved
3 cloves fresh garlic
6-8 corn tortillas, matchstick or julienne cut
1-2 cups canola oil, for coating the vegetables and frying the tortillas
1 yellow onion, thinly sliced
1 dried ancho chile pepper, seeded and broken into small pieces
2 teaspoons cumin powder
1⁄4-1⁄2 teaspoon chipotle chile powder (optional, to taste)
32 ounces low-sodium chicken stock
1 bunch fresh cilantro leaves, chopped and divided (reserve half for garnish)
1-2 tablespoons kosher salt, to taste
2 teaspoons freshly ground pepper, to taste
1 lime, juiced
1 pound fresh grilled chicken, shredded or chopped
1-2 avocados, diced (don't cut in advance)
METHOD
Place an oven rack in the upper third of the oven. Line a baking sheet with aluminum foil. Place the tomatoes, poblano chile pepper and garlic on the baking sheet and rub with a small amount of canola oil. Sprinkle with salt and freshly ground pepper. Place in the oven under the broiler until lightly charred, about 5-10 minutes. Transfer to a cutting board and allow to cool, then give the vegetables a rough chop.
Use a large stockpot and pour about 1⁄2-inch canola oil into the bottom of the pot, heating over medium-high heat. When the oil is hot and shimmering, fry the tortilla strips until light golden brown. Transfer the tortilla strips to a platter lined with paper towels. Sprinkle with a little kosher salt.
Drain off most of the excess oil, leaving about 2 tablespoons oil in the pot. Heat over medium heat, add the onions and sweat for 5 minutes, stirring occasionally. The onions should be translucent.
Stir in the tomatoes, poblano pepper and garlic. Add the dried ancho chile, cumin powder and chipotle chile powder (if using), and sweat for 3 more minutes. This will give the spice's fragrant aromas time to bloom. Season with 1 teaspoon salt and 1⁄2 teaspoon freshly ground pepper.
Add 1⁄2 of the fried tortilla strips and half of the fresh cilantro. (Reserve the remaining tortilla strips and cilantro for the garnish.) Pour in the chicken stock and bring to a boil over medium-high heat. Once the soup comes to a boil, reduce the heat to medium-low and simmer for 25 minutes, stirring occasionally.
Remove stockpot from heat and allow soup to cool for 10 minutes. Use a blender or a hand-held immersion blender to purée the soup until smooth. If you prefer a velvety smooth soup, pour it through a fine mesh strainer, using the bottom of a ladle or a spatula to press as much liquid through as possible. At this point, the soup can be transferred into a container, covered and chilled overnight.
When ready to serve, reheat to a simmer over medium heat. Stir in the fresh lime juice and grilled chicken. Adjust the seasonings, adding more salt and freshly ground pepper, to taste.
Dice the avocado.
Ladle this flavorful and fragrant soup into serving bowls. Add the diced avocado and reserved fried tortilla strips. Garnish with fresh cilantro leaves. Serve immediately.
MAKES 6-8 HALF CUP SERVINGS
LON'S AT THE HERMOSA
HISTORICAL LEAGUE, INC. • 79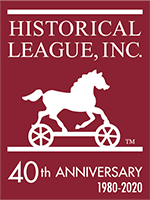 Text and photo courtesy of the Historical League's Tastes & Treasures II: A Storytelling Cookbook of Historic Arizona. Copyright (c) 2018 Historical League, Inc.