Arizona History Digital Hub

Resources for Parents, Grandparents, and Educators
Looking for activities to engage kids, students, and families? 
Printable PDF Activities
Resources and Handouts
Curriculum and Lesson Plans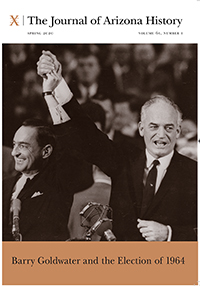 Recipes
FREE Online Access to the Journal of Arizona History
Enjoy free open access to the Journal of Arizona History 2018 and 2019 issues until June 30. Plus, discover the brand new Spring 2020 issue, Barry Goldwater and the Election of 1964. Interested in receiving print copies? Become a member today.
Free online access via Project MUSE.
Digital Collections
"Ask the Author" Event Series Explores Arizona History
If you like reading the articles in the Journal of Arizona History, but have found yourself wanting to know more, here's your chance! Join authors from the recent Journal of Arizona History issues as they present their research and answer questions.
Digital Jigsaw Puzzles
Enjoy fun digital jigsaw puzzles for all ages. Complete the puzzles today!
Zoom Backgrounds from History!
Do you have any virtual meetings scheduled? Looking to mix up your background? Check out a few backgrounds from the AHS Archives! Click on each image for full size to download to your computer. When in Zoom, click the arrow at the bottom left corner near the camera and select "Choose a Virtual Background."
Social Media
From Fashion Fridays to Arizona Trivia, photos from the archives, and highlights from the collections, follow us on social media to experience #HistoryAtHome.
Arizona Historical Society Social Media
Museum Facebook Pages
Don't miss Twitter Takeover Tuesdays! Each Tuesday, a historian will take over @AZHistSociety, sharing their research. Follow @AZHistSociety for more!